Hello dear friends! How are you? Yes, you read the post title correctly – I'm going to Sibiu, Bogatu Român, Bran and Avrig in Transylvania, Romania tomorrow morning for 4 days with some good blogger friends (Niki, Mette, Igor, Agata and Desiree) sponsored by TISCA rugs!
TISCA is an Austrian rug company that has a factory there that we'll tour and, a very exciting part for me is this: we each get the chance to weave a small rug on the loom! Yippee! That is one of the best parts of the trip for me – to be in the factory and to experience rug making personally. I hope to do a good job and craft something nice enough to display on the wall in my home vs. a total eyesore. 🙂 I would really love to make something special that I can cherish and say, "HEY I MADE THAT!". There is no better feeling than to display something at home that you, or someone you love, made with their own two hands.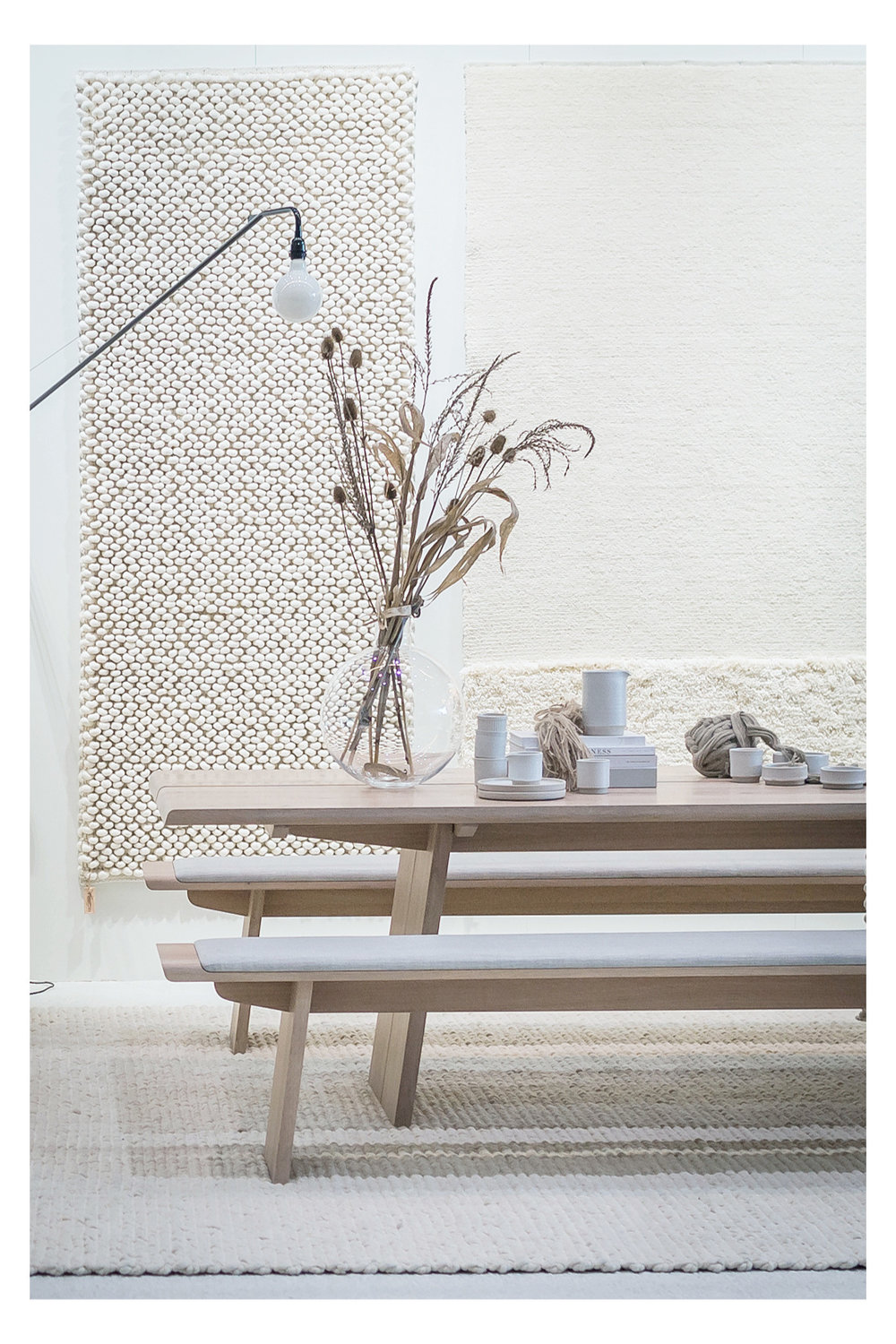 TISCA rugs on floors and walls at Domotex 2018
A little back story about TISCA and how this whole thing started… I met the TISCA team at Domotex in Hannover this past year (and also last year too), through my job at the fair. Also, the other bloggers coming met them at the fair too so I am so happy to be reunited soon with my European blogger pals on this great trip.
You may also remember the name of this brand from my blog when, in 2018, TISCA appeared in a roundup of my favorite stands at Domotex. In fact, that very year, they had one of the most photographed stands at Domotex thanks to the design talent of Lotta Agatan and Pella Hedby from Sweden (Pella's home tour and an interview will be on decor8 this Friday, June 14th so stay tuned!). Do you remember this post? That is the TISCA stand designed by Lotta and Pella…
I have no clue what to expect in Romania as far as life and culture – but I'm about to find out and you can follow along on my Instastories and on my Instafeed starting tomorrow, 10 June until Friday the 14th of this week. All of my content this week on Instagram will be about my travels to Romania with my blogger friends so please follow me @decor8 on Instagram to see more (especially follow my stories there because I'll put all of the behind-the-scenes stuff there, including our tour of the famous Dracula Castle and also Brukenthal Castle.)
TISCA rug samples on the wall, aren't they beautiful?
TISCA rugs, established in 1963, are all handmade, which is something I'm very proud to journey all the way to Transylvania to witness firsthand. "From 26 structures and 96 colours, skilled weavers create a collection for individualists. High-quality new wool from New Zealand sheep, custom sizes, durability as well as reversibility are further specialities of TISCA Austria."
I want to wish you all a fabulous start to a new week and again, follow me on Instagram this week to see the things we see and do in Romania with TISCA.
Love,
Holly
(Photography: Holly Becker)