Let's visit Interiors Stylist Mandy Hart in her Australian home today for a little tour, shall we? You may know her as @by_hart_ on Instagram but let's step away from the 'gram for a moment to dig deeper and learn more about Mandy, tour her home, and see what's on her mind lately on the subject of home and nesting.
Mandy, her husband and their two children occupy this gorgeous 5 bedroom (450sqm) space on the NSW coast of Australia. Coming from the UK, Mandy confesses that the main reason they chose this house was to be close to the water in order to live their version of the Australian dream. In fact, what she loves most about her home is the view, "Luckily for us this house even came with a little boat and the creek leading to the ocean is right at the end of the garden!", Mandy happily shared with me just recently when we set up this tour.
For everyone, home means something different, doesn't it? For Mandy, it's a sanctuary, a place to make memories. It also doesn't mean a perfect space with no sign of life, "I adore a tidy, organized home, but I never want the children to feel constrained by that – they are forever moving chairs around to make cubby houses, there is always craft going on and Lego all over their lounge and that's what makes these rooms more than just a house, they are our home."
How does Mandy describe her interiors style? "California Eclectic", she explains, "I love layering textiles and playing with scale though I believe the key to my aesthetic is blending old and new – I love the challenge it presents and how placing a precious old piece on a modern glass table or a matte white shelf, can really highlight its beauty." It's so interesting how a UK native living in Australia sees her style as California Eclectic, isn't it? I guess it shows we can do and decorate as we wish, taking inspiration from anywhere on earth. I love this about design, the versatility of it all – like with anything artistic, most boundaries only exist in the mind. Remove the limitations to create a home that you simply love – that's my motto.
With every space however, no home owner is ever 100% convinced that they truly have it all. We all love to make improvements, and this carries over into our living space as well. As for Mandy, she'd like to add a swimming pool to their home. While they swim in the creek from time to time, since their are rumors of bullsharks there, a pool is at the top of their wish list. A second dream? Micro-cement the tiled floors as they did in their vacation home in Cyprus. A third? Mandy confesses, "I'm desperate for Sharlene Kayne (@skaynedesigns) to start shipping to Australia so I can own a piece of her incredible artwork!"
Now dear readers, let us indulge for a moment and scroll through her home together… Ready?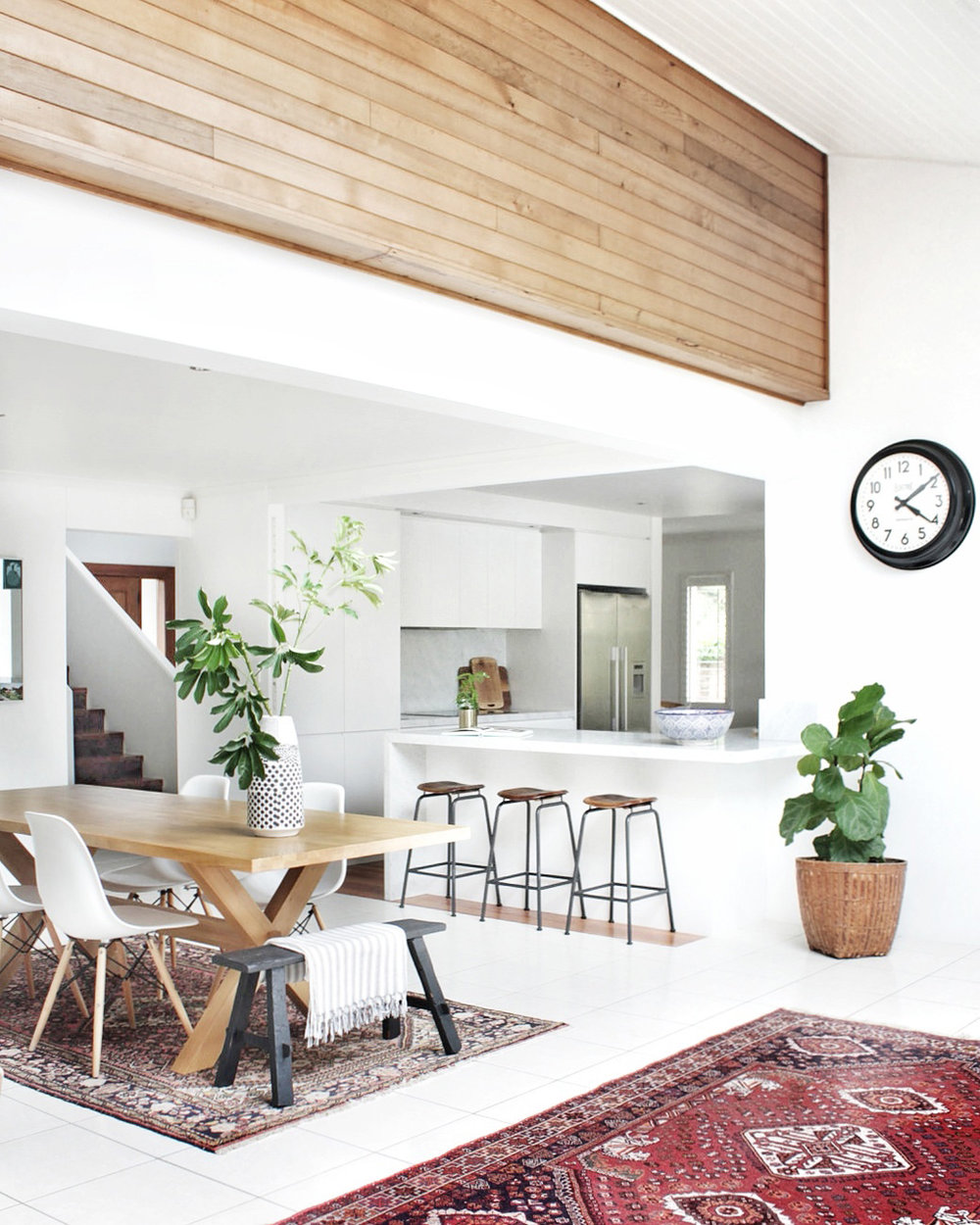 ---
Did you see a room or an object that caught your eye? What was YOUR favorite?
Speaking of favorites, I love to play a game of favorites with my home tour guests on decor8 and Mandy was up for it so here we go. It is possible that you'll find some new favorites for yourself, too…
Favorite candle/scent:
I'm a huge fan of Palm Beach candles, my favorite is Gardenia – my husband knows that's always a winner and chooses it every time!
Favorite flowers and plant:
Since moving to Australia, my taste in flowers and plants has completely changed, because I love the range of tropical and native foliage that I can trim from the garden. The house's high ceilings mean I'm embracing huge branches and long Birds of Paradise stems still seem so exotic to me coming from the UK!
Favorite thing to do at home:
Blast the music and watch my kids dance like crazy around the lounge!
Favorite meal to cook:
I used to live in Japan and became totally hooked on sushi, so we make it a lot at home and the kids adore it too.
Favorite playlist songs:
Favorite way to entertain guests:
Good question, we cook! In summer, I'll make a few huge salads (a Sri Lankan eggplant one is our current fave), my husband will BBQ & friends will bring dessert … we open the gate to the creek at the bottom of the garden and the kids will all run free looking for sand crabs, fishing and taking turns in the kayaks. In winter, we'll light the fire and I'll prepare a couple of fish pies, which I always find so comforting and a real taste of home, everyone pulls up a chair, we put a movie on for the kids and we keep it pretty casual!
Favorite city to shop:
Paris forever. As a child, my mum took me there each year for the fashion shows and I have so many happy childhood memories of the Left Bank and going out to Les Puces (flea-markets) at Porte de Clignancourt. Bliss!
Favorite Instagram accounts at the moment:
@amberinteriors – Amber Lewis is an incredible inspiration to me, as a woman, as a designer and as an entrepreneur, she is always moving forward and pushing boundaries.
@eholmes – a former Wall Street Journal reporter, voices her SMT (So Many Thoughts) on the Royal Family, in particular Meghan and Kate, discussing the branding, strategy & messaging behind their wardrobe choices in a relevant and hilarious way.
@mariefeandjakesnow – Aussie guy and German girl whose love and openness has seen their travel account inspire a community of half a million in under 3 years. Their photos are stunning, their stories are gorgeous to watch and their vision of the world is uplifting.
@cestedesign – Carol is a supremely talented interior designer, with the most incredible eye for detail
@carlaypage – Carley Summers is a gifted photographer and stylist – her use of natural light is phenomenal and her style is a thoroughly elegant combination of warm tones & boho layers.
Thank you so much Mandy for joining us on decor8 today, was a pleasure to "meet" you and I wish you a lovely and inspiring weekend – and to all of my readers, enjoy your weekend too!
Love,
Holly
(Photographs: With permission from Mandy Hart)