Hello dear friends, I have a lovely home tour to share today – especially good if you're a diehard Marie Kondo-fan (Book author and founder of the Konmari organizational method), because this home is super organized, pure and magnificently minimal. I really love it!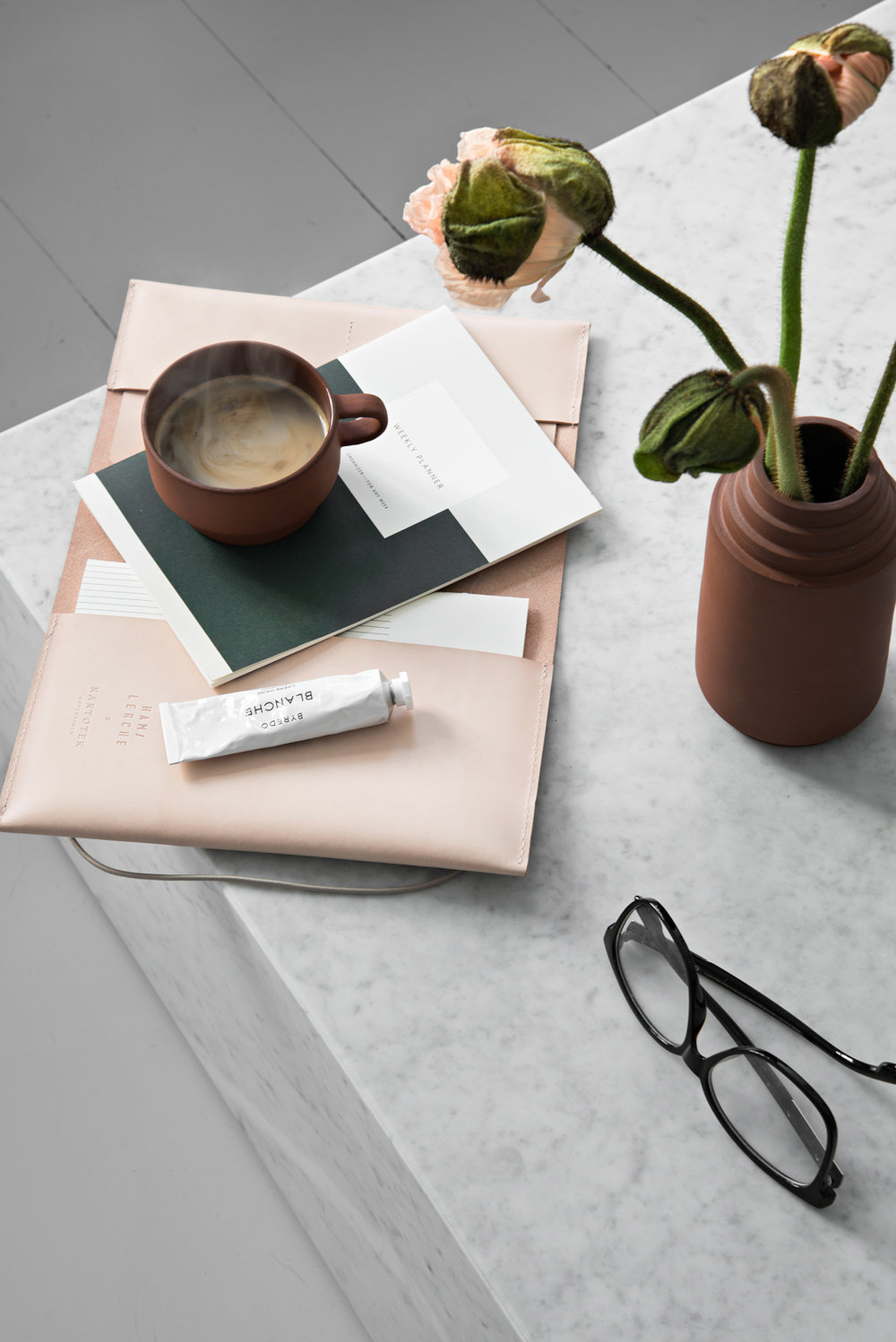 Let's look at the 700 square foot (70m2) apartment of Greek Architect Katerina Dima (which she shares with her husband and cat) in Oslo (Grünerløkka), Norway.
The neighborhood of Grünerløkka is one of the most lively districts in Oslo, a truly hip area known for its street art, stylish bars, stylish dance clubs and chilled-out cafes. Indie boutiques abound selling design items and vintage fashion, while bustling weekend markets draw crowds in local squares for artisan foods, kitchenware, jewelery and bric-a-brac.
This district also boasts walking trails that follow along the Akerselva River, which is flanked by small quirky parks and cool industrial concert venues. Doesn't it sound idyllic?
About Katerina: As mentioned, she's an architect with a masters degree in renovation and restoration, born and raised in Greece. Since relocating to Norway, she works as a freelance stylist and photographer for private clients and brands and creates content for them and for her own channels, along with advertorials, editorial work, and creative consultancy. Katerina also works on side hustles which involve styling, creating new spaces and dabbling in home and portrait photography, which she's quite good at (her home for this feature was shot by her).
Her goal with all of this? To ultimately integrate architecture into her work style because even though she works a lot with design, she misses being THE designer.
[On social media, you can find Katerina at Only Deco Love and also on instagram, pinterest, twitter and facebook under @onlydecolove.]
For this home story, I've asked Katerina for a mini interview, since I always love to ask our guests about their homes and what they enjoy doing there, what's on their playlist, who inspires them, favorite scents and foods, and more. A home is certainly much more than a space that we make pretty – it also needs to make us happy and support or life. Let's see what lovely Katerina has to say to my questions below, do follow along!
KITCHEN/DINING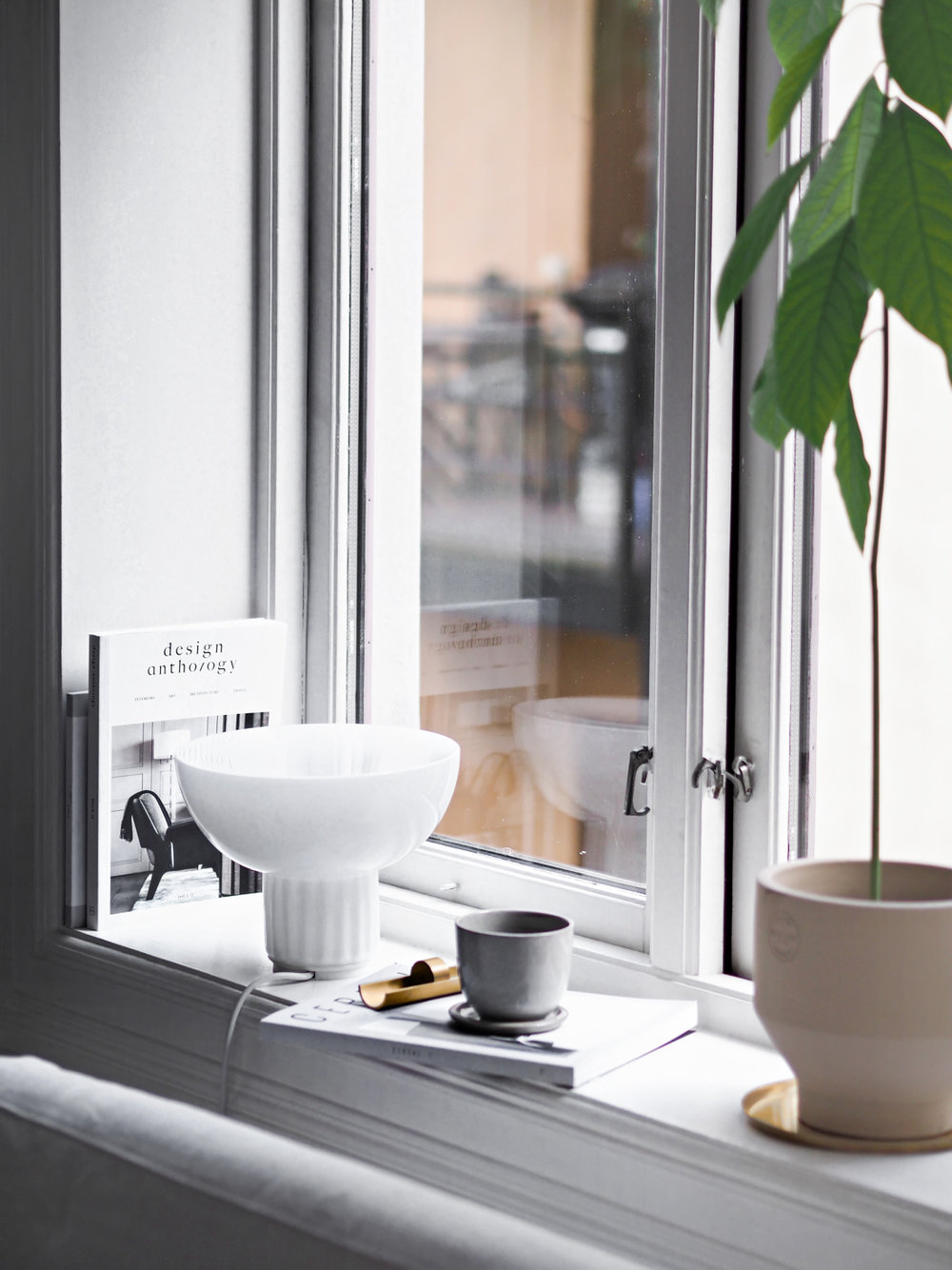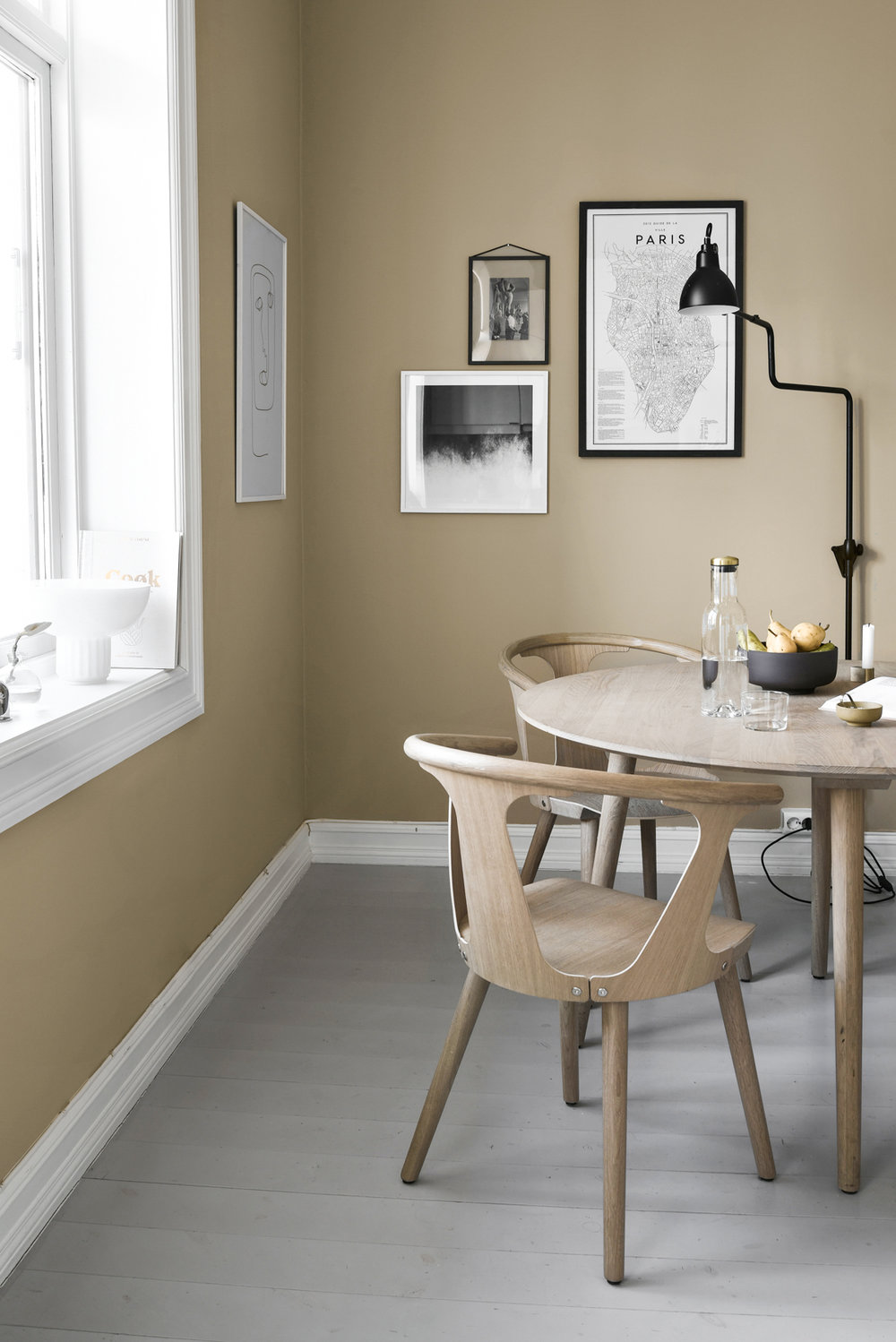 How would you describe your interior style?
I would say it is not a style, it is a sense of balance in design I always try to achieve with everything I do. I cannot possibly say I am a pure minimalist when I love Rococo so much for example, an excessively ornamental style, with an abundance of curves, counter-curves and undulations.
Have you ever been inside old embassies or Palaces? How can you not be awed by those views? Balance is the key however as I noted above, so when it comes to translating styles in the modern world, I am always borrowing elements from different styles, bringing them together, allowing them to live together in simplicity.
I guess if anything could describe my style, it would be that. Rococo ceilings painted in one color will work great with a super minimal interior, combining natural wood for a more Scandinavian feel and marble for a more European one. As long as there is balance and a sense of continuity…
LIVING ROOM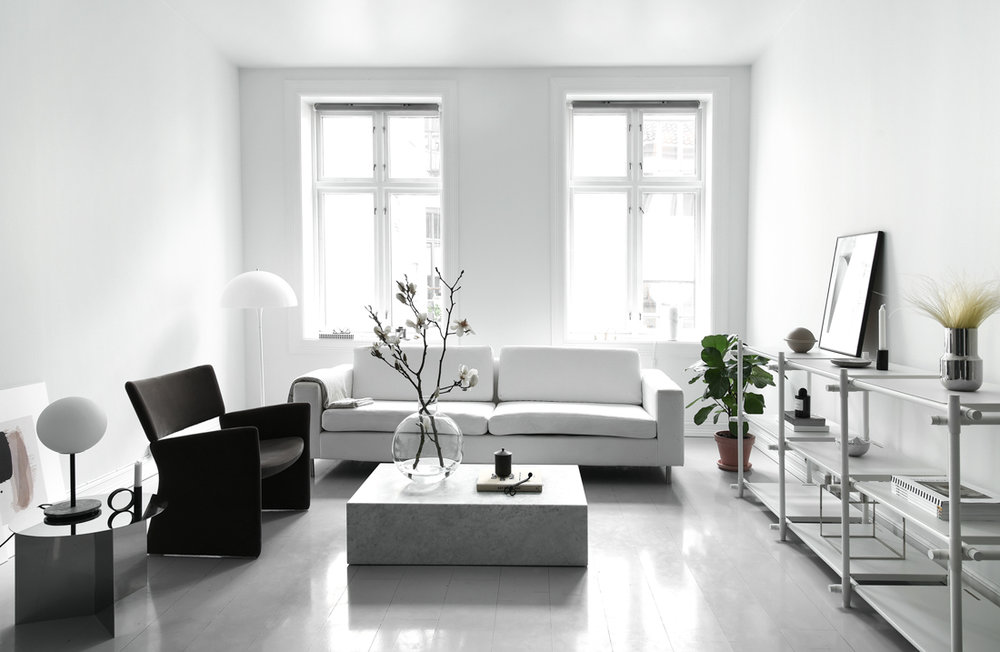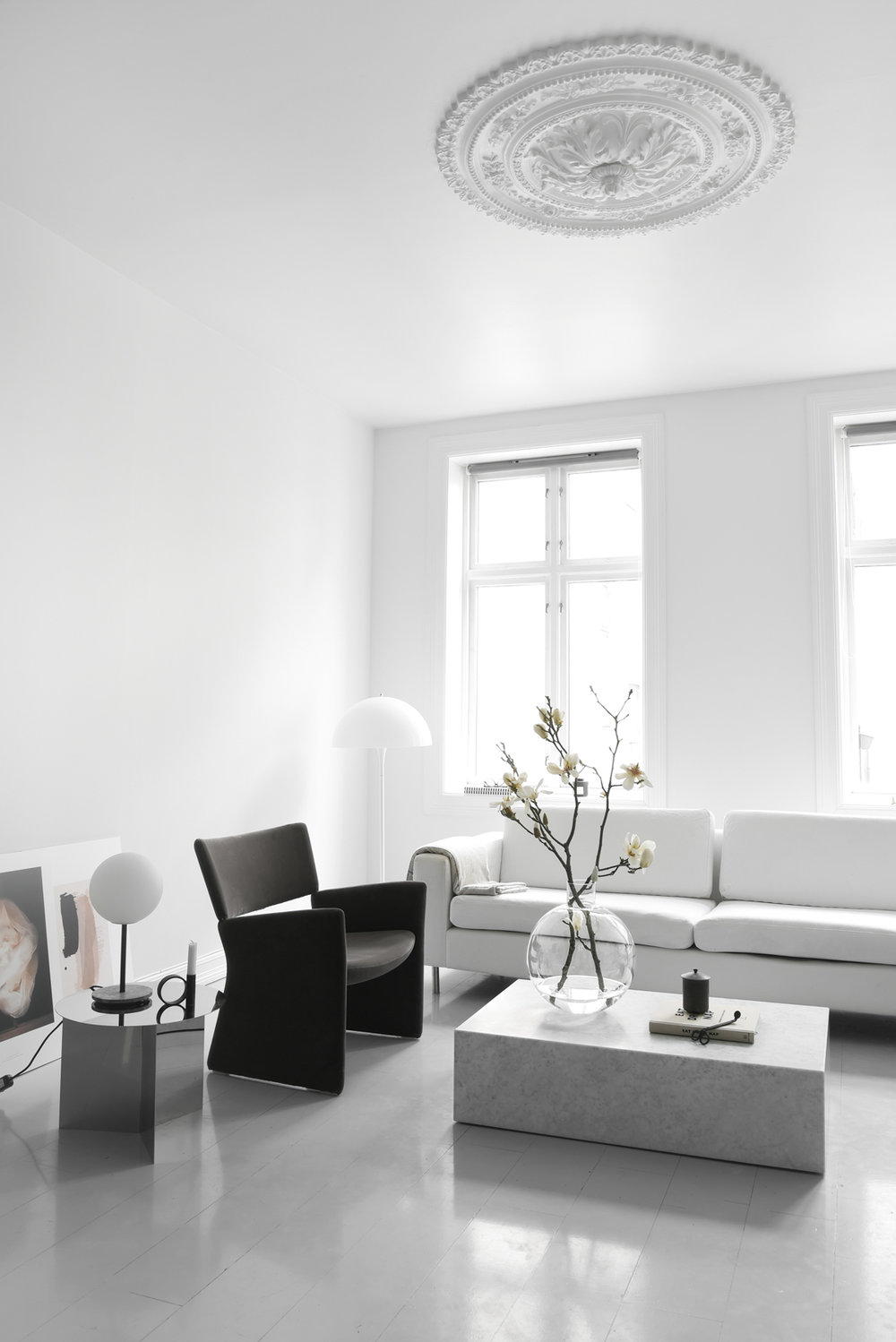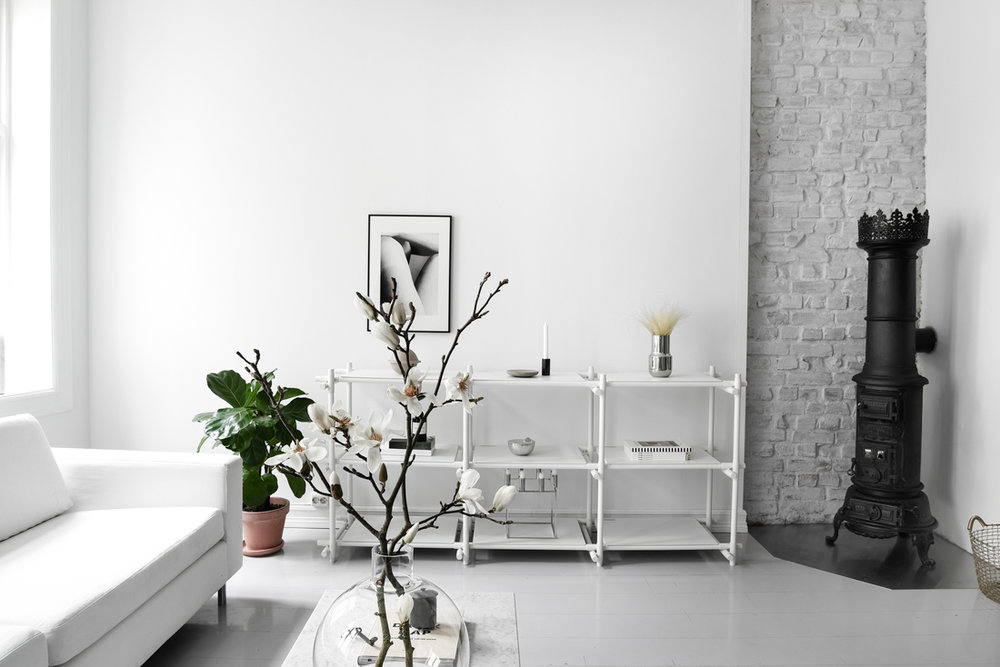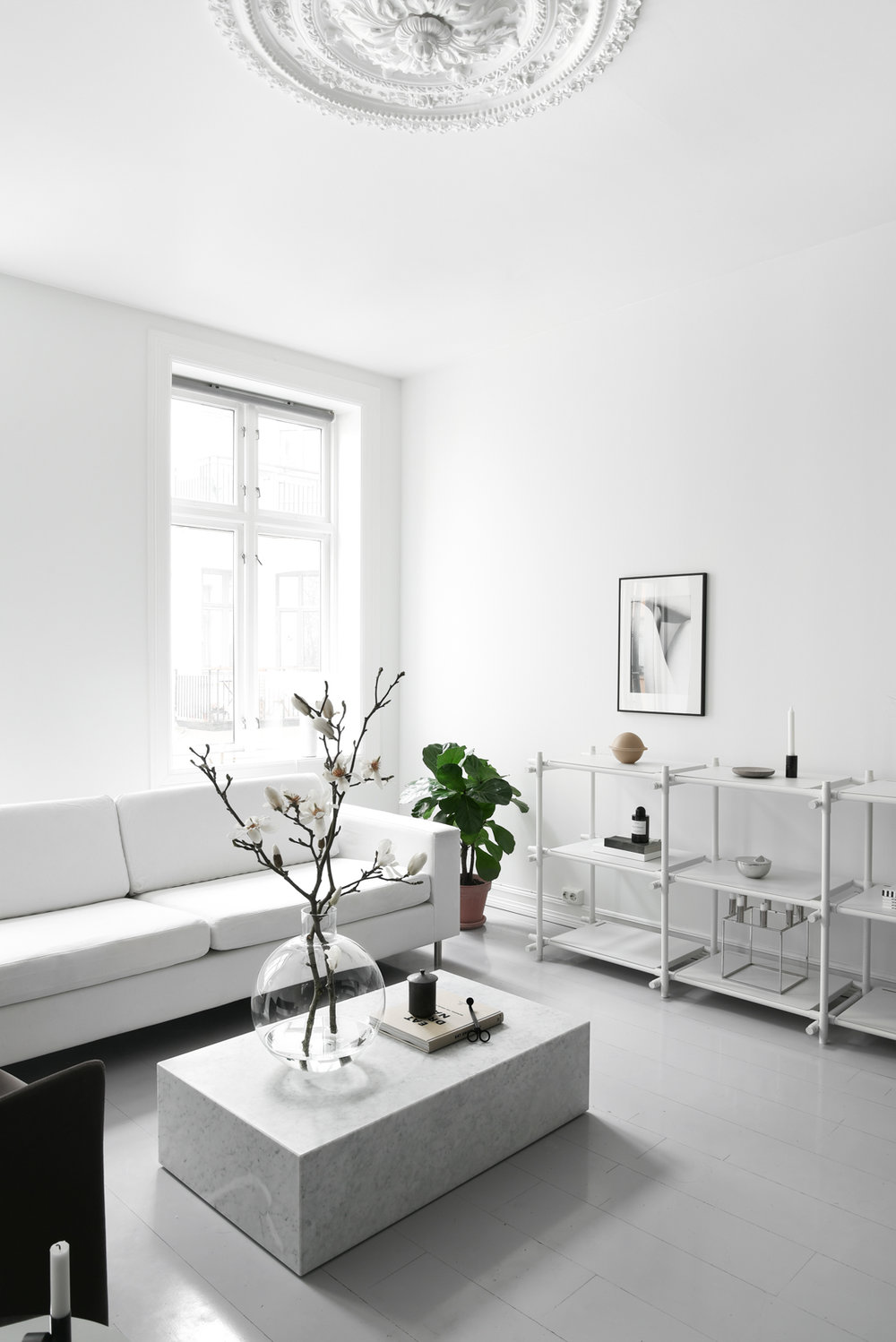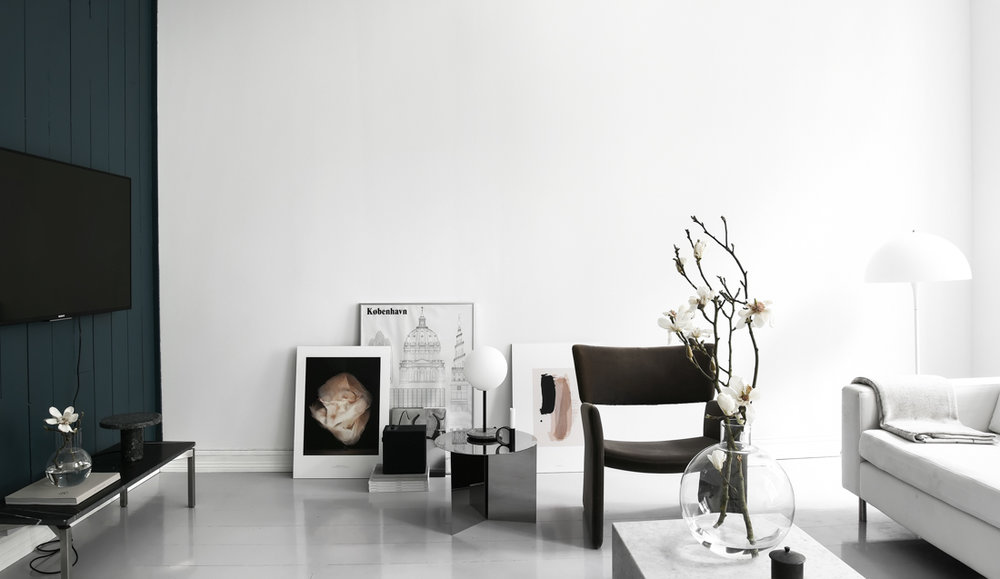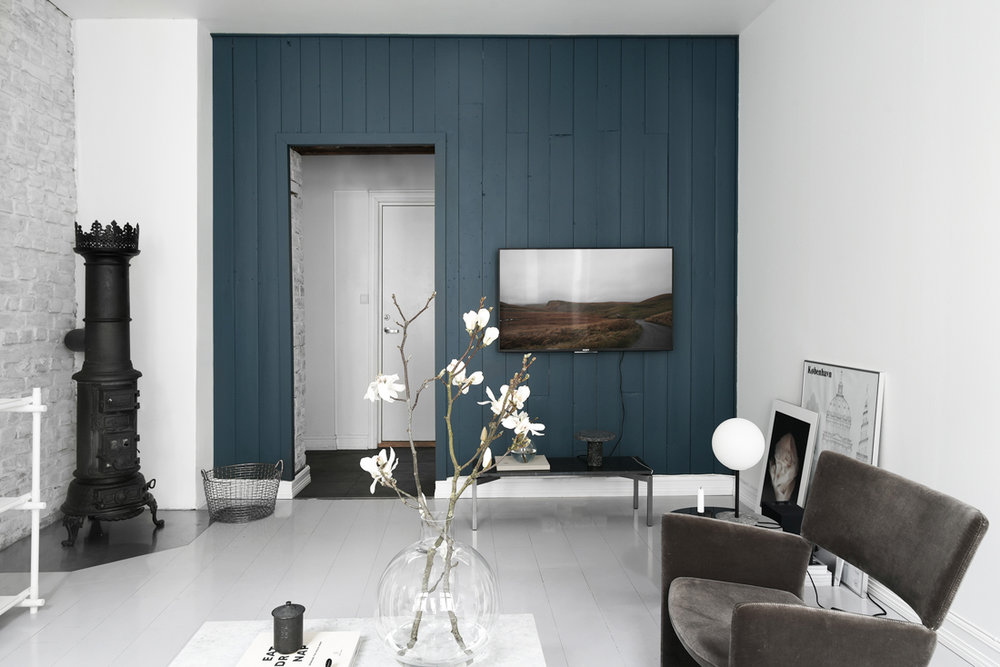 What does HOME mean to you?
I traveled so much after finishing Uni. Living in different places has taught me that it is important to nest in order to function. To create a home everywhere you go, even if you are staying temporary. Having a place to rest, to feel safe, to relax and refresh your social batteries is irreplaceable for me, and it is really easy to do. I find that even my most essential travel belongings will do the trick for me!
What do you love most about your home?
The high ceilings, the beautiful original floors that are painted grey, and the location. It is in the middle of a city block, and my apartment is in a building with only three total apartments, one each floor. I would say that it's idyllic to wake up in the middle of the city, yet have trees and flowers around you as if you were in the middle of the most beautiful garden!
What would you like to change at home?
If I owned the apartment I would invest into turning the bedroom into the kitchen and vice versa. Then I would open the two rooms with double doors so they would be naturally connected. I love having friends over and we almost always end up in the kitchen, so this is an ideal way for me to have it both ways while still having separate rooms.
INTERIOR AND EXTERIOR HALLWAY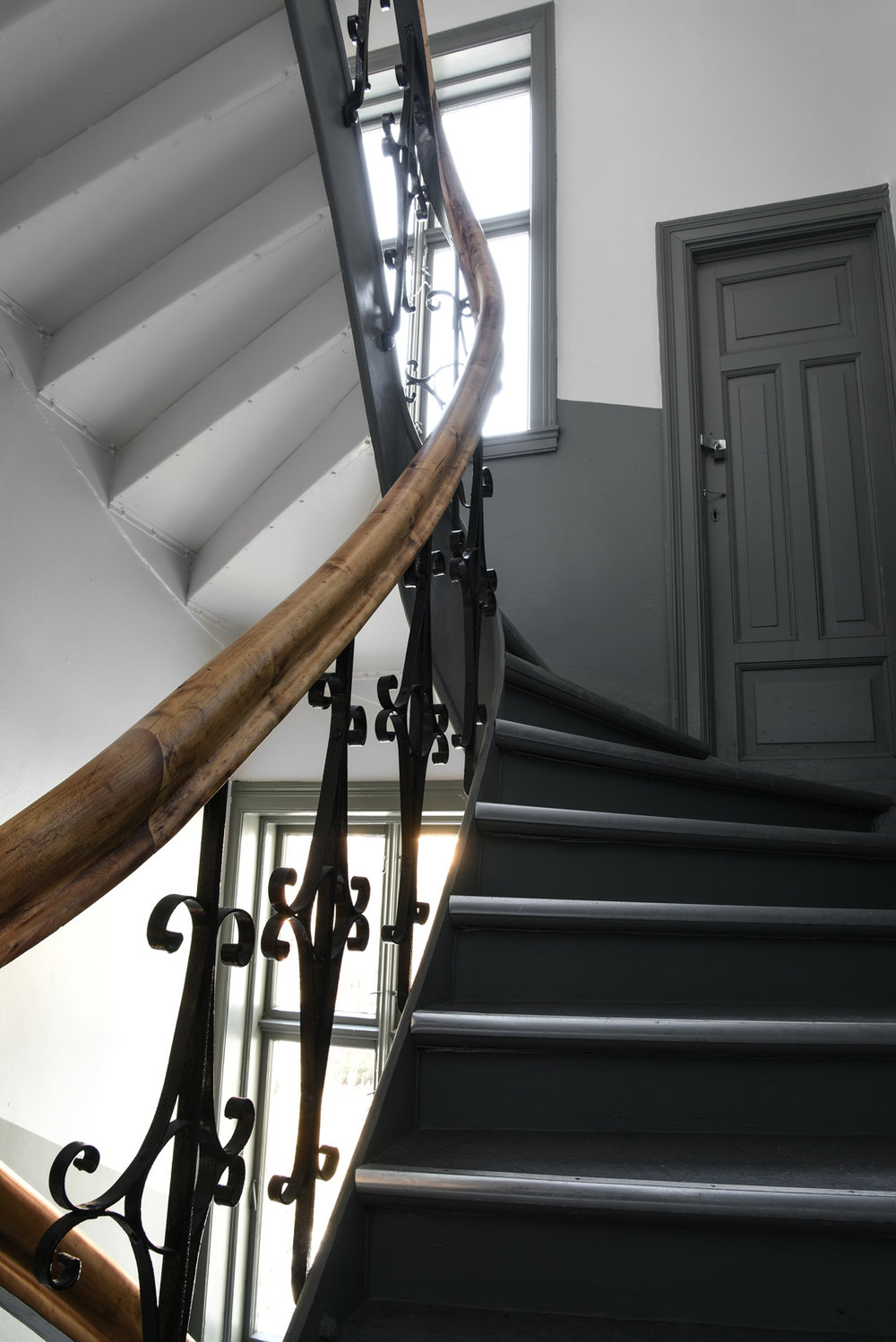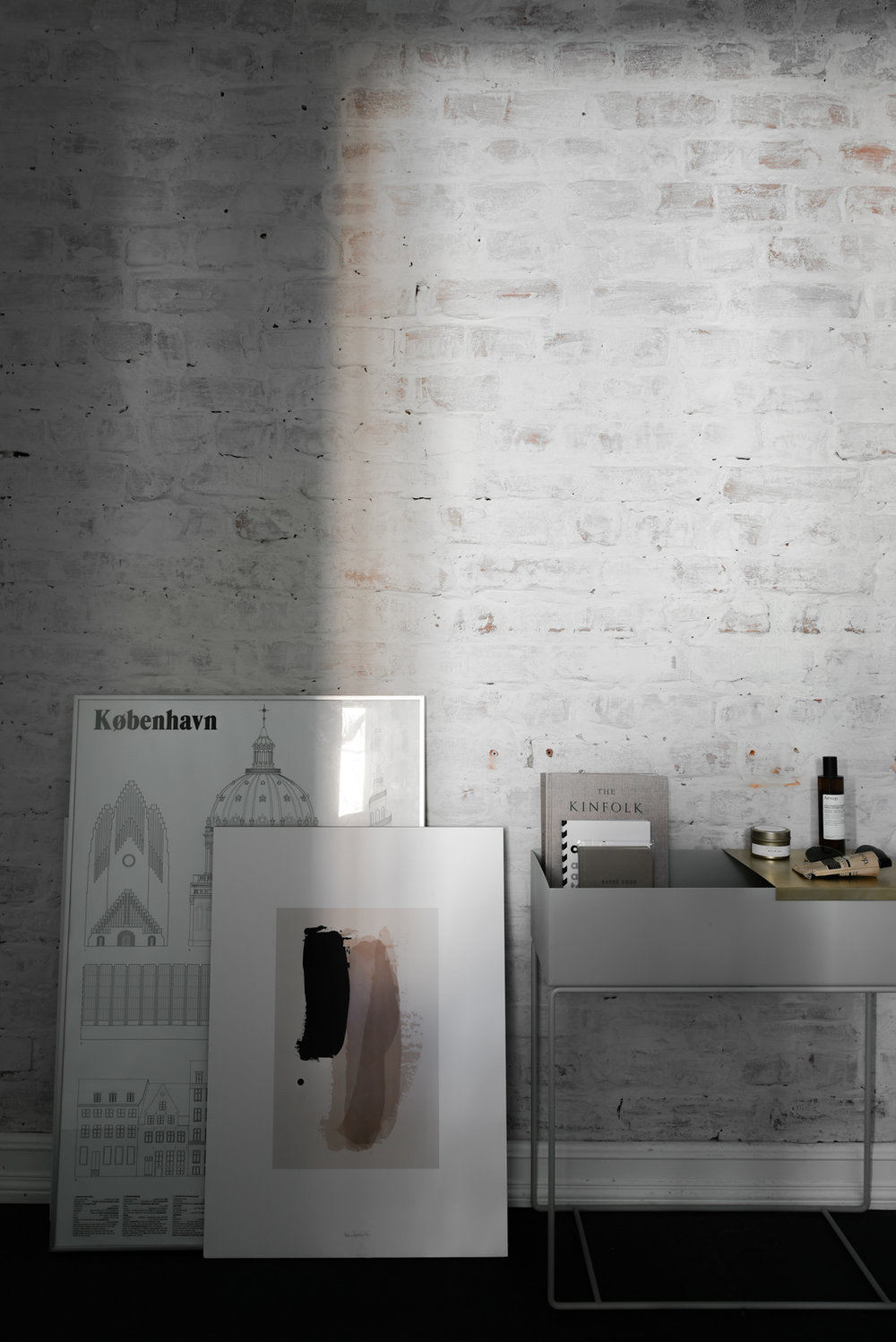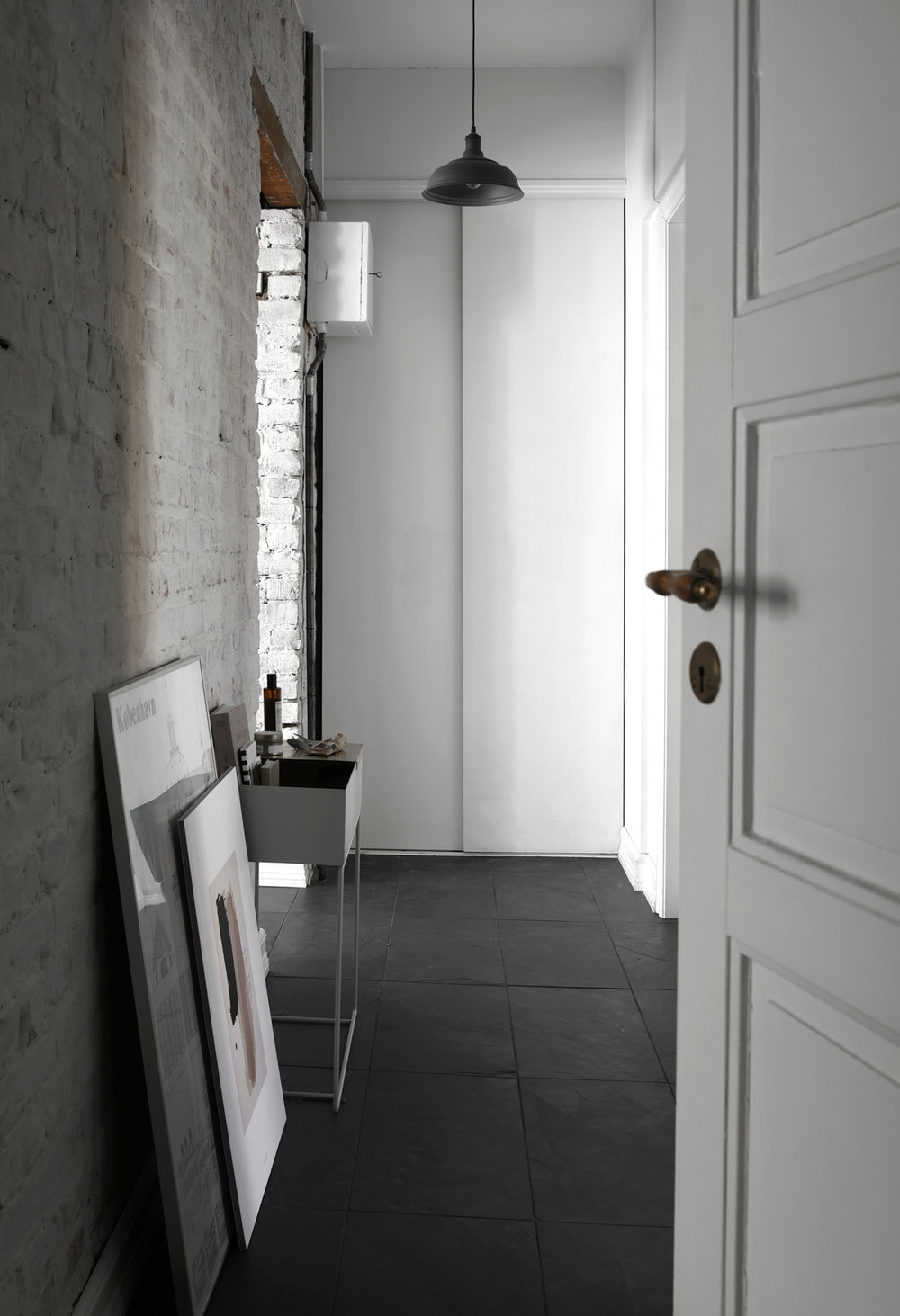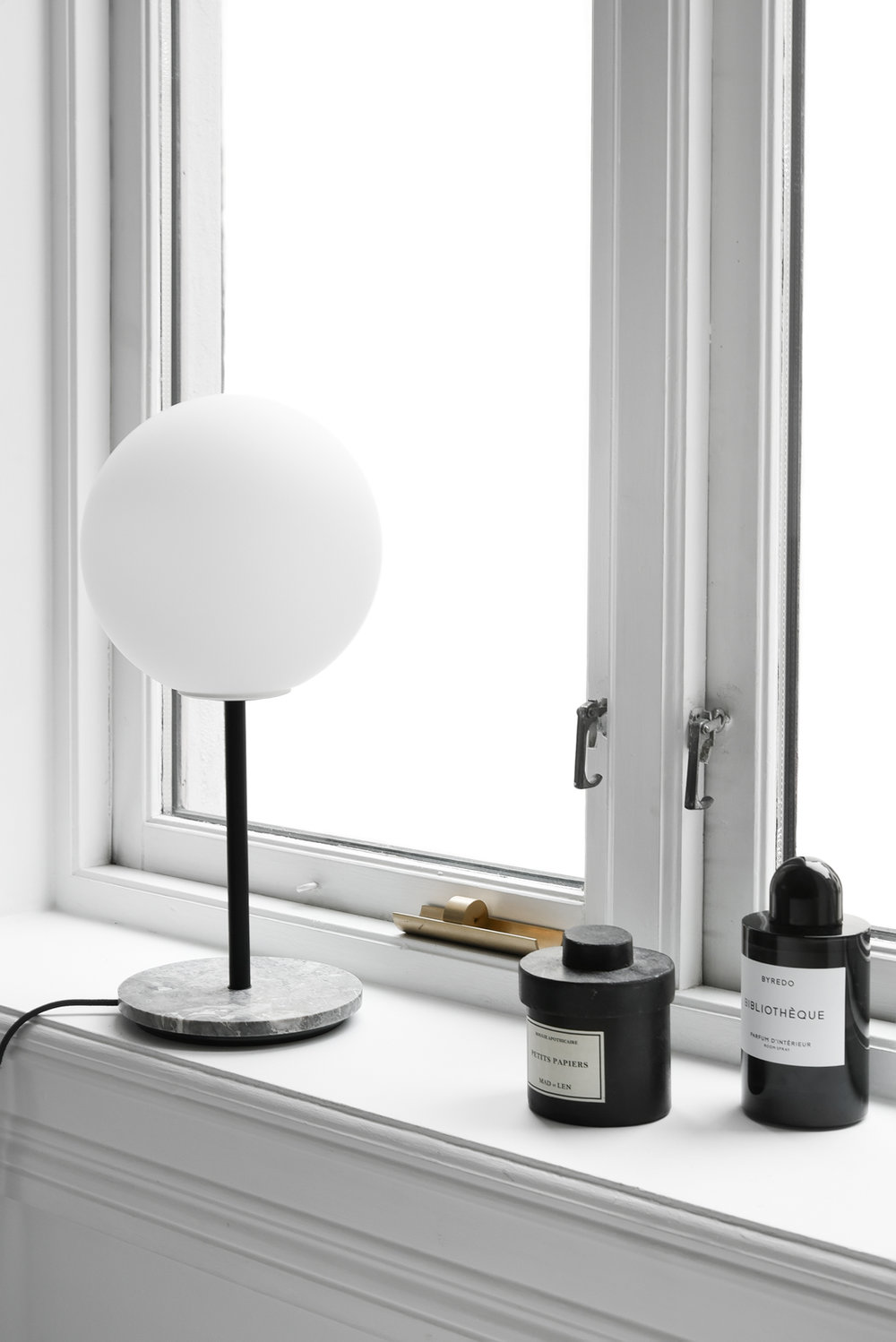 What is your favorite candle or scent?
Anything from Mad et Len. Their aromas are sublime.
And what do you like to do at home?
It always varies depending on the mood, but playing music and making a hot chocolate to sip on the couch while browsing the latest news online, reading a favorite book, catching up with blogs/inspiration, is probably one of my favorites. I think we can all count binging on the occasional original Netflix content too however right?
What do you enjoy cooking?
Lately, anything Thai! I think we have a Tom Kha Gai or Pho at least once per week.
When you put on the music, what's usually playing?
1. Waves – Acoustic by Dean Lewis
2. Love & Hate by Michael Kiwanuka
3. When the party's over by Billie Eilish
4. Eyes Closed by Halsey
5. Don't Tell Me by Ruel
Let's talk about entertaining. When you have people over, how does that usually play out?
For a relaxed evening we end up ordering sushi, though it usually is the case when a gathering was not arranged, or a last minute thing too. I will cook when I'm preparing a meal for festive occasions mostly. We end up drinking wine around the table and depending on the company, games will also be an option! Lately, we have been trying out Munchkin and we love it.
Tell us what your dream piece is for your space…
I love statement pieces, especially when it comes to lamps, there are a few pieces that are on my "dream" list. One of them is the Cloud by Apparatus Studio.
BEDROOM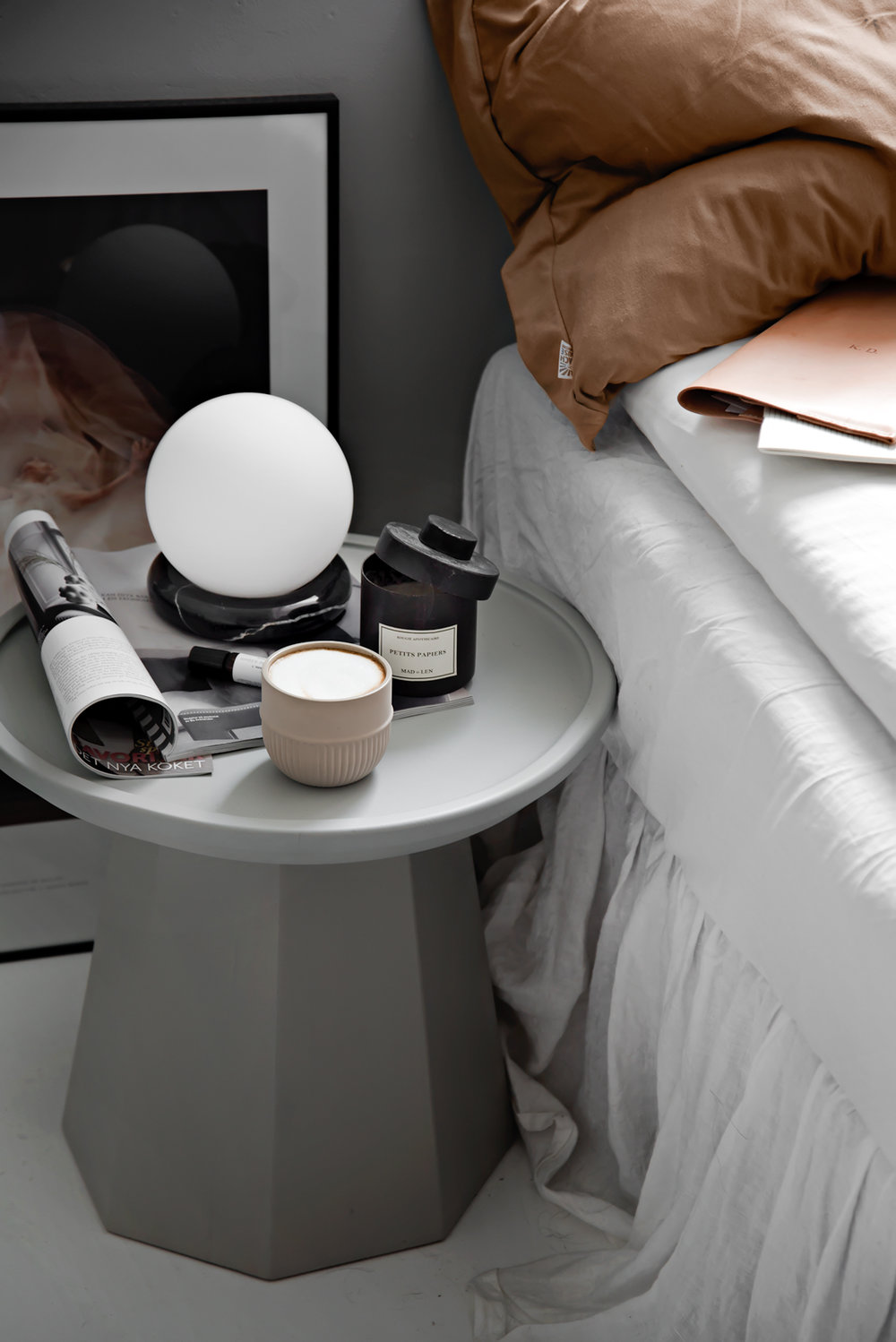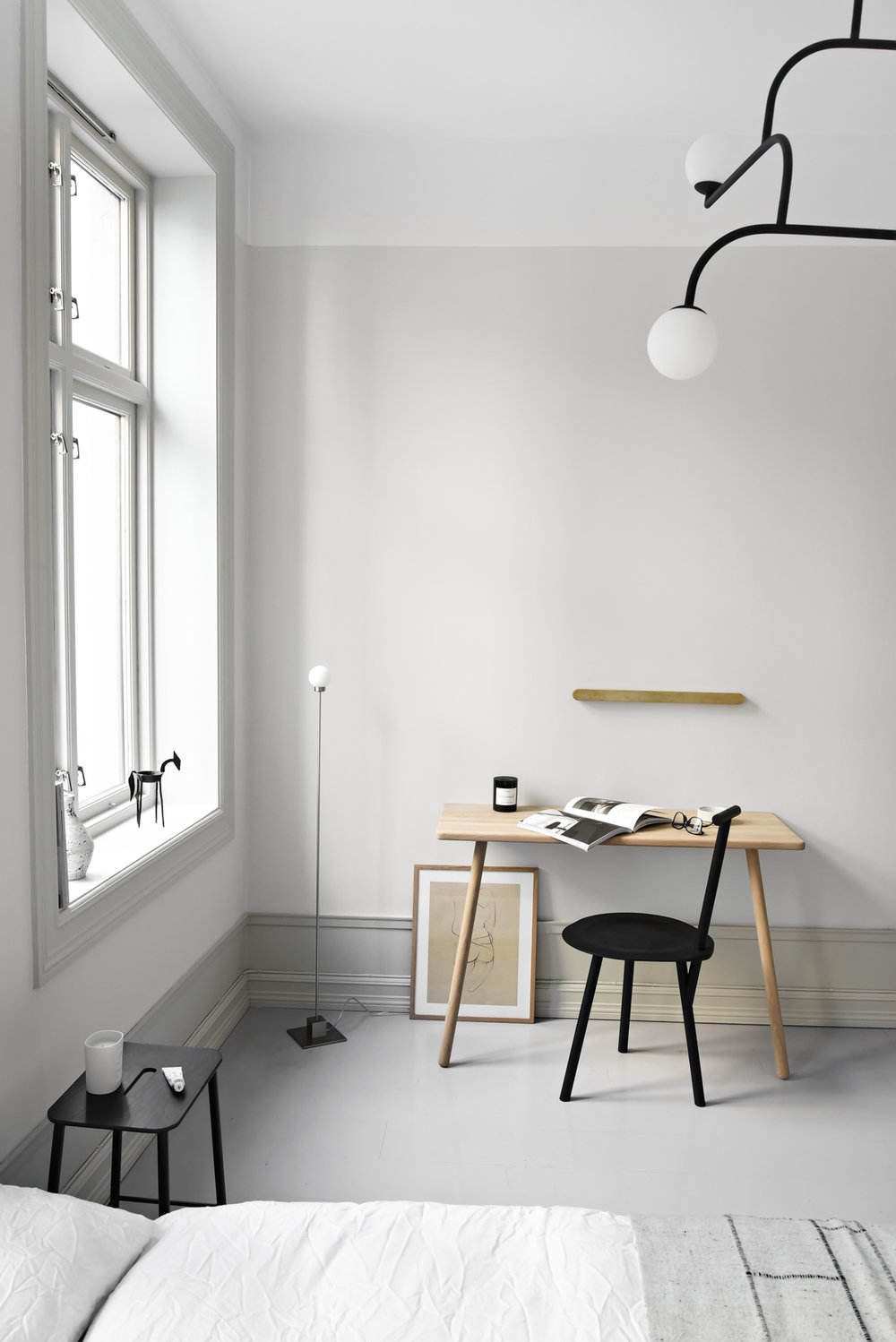 What's important to you when you visit someone else's home?
I've always been so curious to see how others style their spaces, how they live, how the rooms look! The reason to visit others' homes has always been to satisfy my curiously, if there is a reason to love Instagram it is because I get to see so many homes! We can always see celebrities houses in magazines, but with Instagram we get to see so many different homes, I love it!
Fresh flowers or a plant?
Both! I am also known to say that the more dangerous they look , the more I love them.
Wine: Red or white? Or something else?
Not a fan of wine, though I love cooking with it. It is all the way gin and flavored tonic for me.
Chocolate or vanilla?
I am a verified chocolate addict.
When you leave Oslo, what's your favorite city to shop and roam?
I would say Paris, if there is a city that has mastered of selling you a lifestyle as well as a product and/or a combination, that's definitely the city of light.
We all love Instagram, in fact, that's how I discovered you! What are some of your favorite Instagram accounts at the moment, and can you tell us why?
While I am listing the Instagram accounts, these are mostly blogs that I also follow on Insta. I love to read what they have to say on their blogs and check out their photos in a larger size which is a whole different experience!
For food:
https://www.instagram.com/themodernproper for recipes you will want to make for when friends come over.
https://www.instagram.com/smittenkitchen for recipes you want to make everyday
https://www.instagram.com/osloraw for super healthy all-raw delicious breakfasts, cakes and candy, trust me you will love it!
For fashion:
https://www.instagram.com/oliviapalermo no introductions needed I think this is my celebrity crush https://www.instagram.com/inthefrow/ British favorite for chic style but also to follow daily, and https://www.instagram.com/icovetthee because Alix is your everyday girl who is a delight to watch in her youtube channel for everyday fashion and beauty.
For comedy relief:
https://www.instagram.com/jude_devir he draws his everyday life with his wife in the most adorable and funny way
https://www.instagram.com/catanacomics an even cuter version of drawings of a couples life I just love when one pops up on my feed.
Thank you so much for this lovely home tour and also for giving us some insights about your home and life. Such a pleasure to welcome you to decor8 today Katerina!
Love,
Holly
(Photography with permission by Katerina Dima)